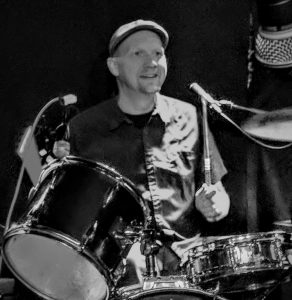 Joshua Pohl
vocals, drums, percussion
Joshua knew that rhythm would be life at a very young age. He started drum lessons on just the snare drum in sixth grade, learning all the sheet music and rudiments that he could. He continued in percussion and drums throughout middle school and kept it as a hobby while in high school.
Rhythm took on a new meaning for Joshua when he spent much of his late high school and early college years following around his favorite band, The Grateful Dead. It was in the parking lot of these historic shows that he would join in multiple drum circles and jams with his Djembe acoustic drum. Joshua was 18 years old when he bought the current Djembe that he plays on stage today. With it he honed his skills within the same parking lot jams as many other musicians.
After 22 Grateful Dead shows including their final performance, Joshua moved to Minneapolis Minnesota and began to play drums regularly. It didn't matter if it was a hand drum or drum set, he was always ready to play. Minneapolis is a music mecca thanks to the late Prince, and Joshua took full advantage of the scene, playing drums for such groups as Emilie's Mess, the traditional Irish Drinking Band Arise & Stagger, and finally making it big with a cocktail folk band by the name of Lace Martini.
After Minneapolis, Joshua moved to the small town of Flagstaff, AZ for a one year hiatus to the mountains where he played Bodhran and Djembe in the traditional Irish folk group The Drunken Boar. After AZ, Joshua came home to Kansas City and begin a new life and family while working for his late father. He continued to play drum set and hand percussion with the cover bands Babes In The Woods, Strange Case, and most recently, the harmonic Half Price Buddha.
Now Joshua has found his passion in Tracer Heights, and is looking forward to where their talented, unique sound will take them. Artist / Drum influences include Mickey Hart / Bill Kruetzmen (Grateful Dead), Jon Fishman (Phish), Larry Mullen Jr. (U2), Lars Ulrich (Metallica), Nikko McBrain (Iron Maiden), and Neal Peart (Rush).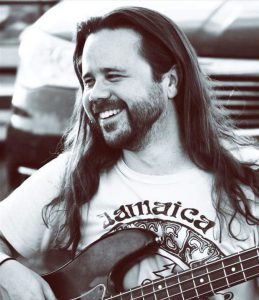 Jeremy Clark
vocals, bass
Jeremy first picked up the bass on a lark, after being asked to back up Ben on a few songs during his record release party in 2009. In the audience was a local Kansas City bluesman, who noticed something that Jeremy didn't know he had.
After a 5 year tour of duty on the regional blues circuit, Jeremy emerged as a confident musician ready to combine his roots experience with his passion for improvisational psychedelic music.
Believing the bass should be equal parts rhythm and melody, Jeremy leans on influences from Duck Dunn, James Jamerson, Phil Lesh, and Mike Gordon. He can create a solid glue for the rest of the band to build on, while also always being ready to take charge and lead a jam to new heights.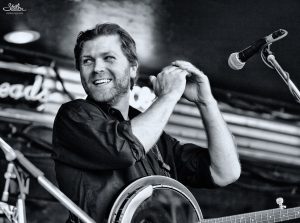 Ben Hoppes
vocals, electric banjo, guitar
While growing up in Missouri, music became part of Ben early in life. As a child, he spent hours digging into his parents LP collection, sampling everything from Ravi Shankar to Leo Kottke. But when he heard a banjo being played for the first time at age 13, he knew the instrument was going to be part of his life forever.
With a $100 banjo his father bought him for Christmas, Ben spent his early teen years running around the underground bluegrass scene jamming with anyone else he could find carrying an instrument, allowing him to hone his craft quickly. Building on this, he also developed what can only be described as "turbo folk" finger style guitar influenced by the likes of Leo Kottke, John Fahey, and Peter Lang.
During high-school, he discovered the heavier side of music from artists like Nine Inch Nails and Marilyn Manson. Using a custom built electric banjo, he melded his new electric style with influences from the oddballs of electric string musicians like Bela Fleck, Paul Gilbert, and especially Trey Anastasio.
Ben continues to pioneer how an electric banjo can be played, bringing a rootsy background to the modern twist of his ever evolving style. Utilizing a Swiss army knife of effects and live electronics, Ben can create a sound that can captivate a small room or fill up the largest hall.